About Rich Koslowski
"About Rich"…Yes, folks, this is quite possibly the most exciting portion of the Rich Koslowski website.
I was born in Milwaukee, Wisconsin in 1967 and have lived in the Milwaukee area ever since (minus the ten wonderful years we lived in sunny Aptos, CA).
I graduated from Menomonee Falls High School in 1985. My education as a young lad was an exercise in seeing just how little I could actually do and still pass. I was the classic "underachiever" and "class clown."
Overall I had a fantastic childhood and had a great group of friends, most of whom I still see on a regular basis to this day.
My parents owned their own grocery store where I worked in the Meat Department. I met a lot of great people working there and the experience was invaluable. I hated it at the time, of course, but looking back I realize what an invaluable tool it was for me in shaping who I am today. My father was the most hard-working individual I've ever seen. He taught me about work ethic and pride. He is also, I should add, a world champion in the culinary art of sausage making! Not bad for a guy who had to quit school in the seventh grade because of a little episode known as World War II.
I earned an Associate's Degree in Commercial Art at Milwaukee Area Technical College in 1988 and parlayed that into a meaningless job as a "dust spotter" at a local photo lab. The job totally blew but I met my wife, Sandy, there so I guess the experience wasn't a total loss.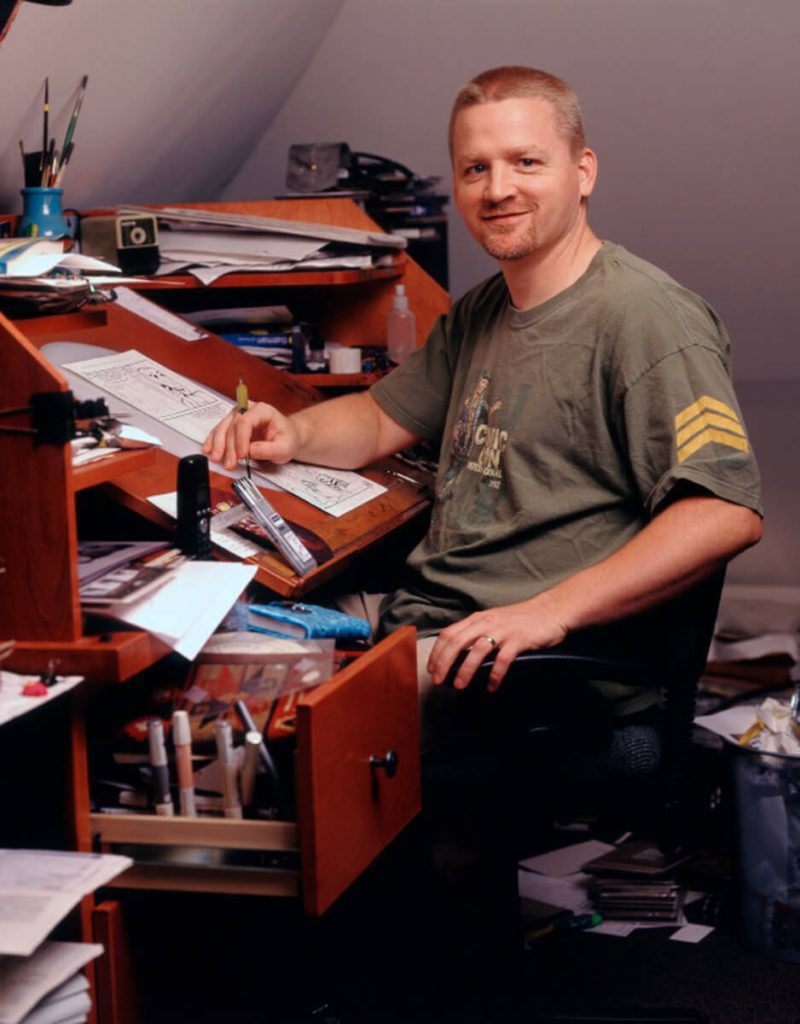 From there I went on to working as an animator at a small studio in Franksville, WI called Animagination. We worked on television commercials, instructional videos and a few children's books. It was through Animagination (say that ten times fast!) and my good buddy, the owner Art Mawhinney, that I got my first comic book gig working on Sonic The Hedgehog published by Archie Comics. We were doing storyboarding for the t.v. show and it led us to Archie in a roundabout way. Not your typical way of breaking into comics, but it worked and I was thrilled! I still work as an Inker for Archie to this day. Yes, I can pretty much ink Jughead in my sleep.
Comics was, and still is, my first love as an artist. It was always my dream growing up to work in this wonderful business. So landing the gig at Archie was a dream come true.
In addition to working in the field as an Inker at Archie I also worked in a comic book store for a while here in Milwaukee. It was at this store, Collector's Edge, working under the tutelage of the enigmatic owner, Jef Parker, that we found ourselves discussing the fact that a certain amount of our customers were found to be lacking in certain…social skills. We commented that it would be nice if they had some sort of "handbook" to aide them in their fruitless hopes of attracting female companionship. Hence, I set about creating said "handbook" in the form of my own self-published comic book entitled, How To Pick Up Girls If You're A Comic Book Geek, in 1997. A one-shot, full-color, 40 page comic that I had to take a home equity loan out to get it printed. I had no idea if it would sell, or not, but I absolutely felt compelled to produce this comic. I was thrilled to see the results. The book was a bona fide hit and I decided shortly thereafter to make it into an ongoing series entitled The 3 Geeks. The 3 Geeks was expanded in format in 1999 when I was nominated for three Eisner Awards and the title became Geeksville. Image Comics also published it for a while. A full-color issue called "Jim's Jerky" was a highlight, including a free chunk of beef jerky with the comic.
For me The 3 Geeks comic is all about fun. I always try my best to make that comic innovative, fresh and fun.
In 2001 I decided to finally produce a book I had been tinkering with for years. A book about the cartoon industry called Three Fingers. A dark comedy told in a documentary style about "cartoon actors" in the 30s and 40s and the barriers they faced in a prejudicial Hollywood. I approached Chris Staros of Top Shelf Productions with my proposal and he sent me a contract a few days later.
In 2002 Three Fingers the graphic novel was released to much hoopla and fanfare! I was incredibly proud of that day, that book, and the critical praise it received. In 2003 it was nominated for the Harvey Award, the Ursa Major Award and the Ignatz Award for "Best Graphic Novel." It won the coveted Ignatz brick––quite possibly the coolest award in the history of awards.
In 2005 I did another graphic novel with Top Shelf entitled The King––my take on the whole Elvis Presley phenomenon. The King was also well received by the fans and critics and has had several foreign editions published; another proud moment in my career.
In 2007 my Illustrated Screen Novel, The List, was self-published. A twisted holiday tale. It is currently "being shopped" to Hollywood studios. Fingers crossed. In 2010 I collaborated with writer, JD Arnold on the graphic novel, BB Wolf and the Three LPs, my third book with Top Shelf. I have several new projects in the works and enjoy painting oil portraits in my spare time. Stay tuned… And, oh yeah!…my muse is my Stella Rose. My delightful daughter who provides me with most of my inspiration!
– R